For the past five years, the Arts Research Collaborative has helped provide activities for UML students and alumni, providing them firsthand, real-life experiences in the fine arts. In addition to organizing workshops, benefits, and an artist lecture series, we have hosted UML Co-op Scholars and interns, providing research and curatorial opportunities for the students, giving them the chance to meet and work with professionals in their field.
UML and the Stoklosa Middle School
In the spring of 2016, we worked with the Stoklosa Middle school to create a series of "prayer flags". Following in the Tibetan tradition to spread compassion, peace, and goodwill, we worked with the students and our friends in the Lowell community to make a number of small paintings on paper to reflect a shared goodwill towards our neighbors.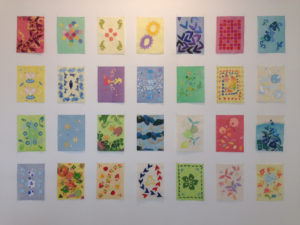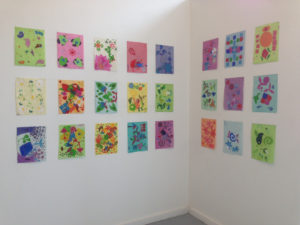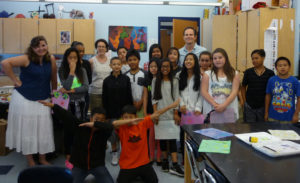 In fall of 2015, UML Fine Art students worked with the Stoklosa Middle School in Lowell to begin collaboration on a series of workshops to develop large scale images of the Lowell community.
---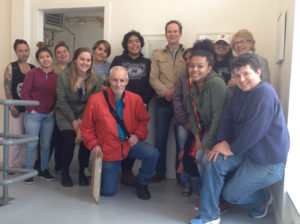 Prof. Meredith Fife Day and Middlesex Community College students visit upon the occasion of Lavaughan Jenkins' exhibition
---
UML visits the Reilly School
Students from the UML Fine Arts Program visited the Reilly School in Lowell for a workshop on June 18 to help them celebrate their last day of school. As part of the Lowell YMCA after school program, UML students Justin Campaniello, Alexandra Derderian, Eileen Ryan, and Jessica Tawczyski, worked with the Reilly students and introduced them to different collage and painting ideas. The workshop, which took place on June 18, involved over 40 students from the first to fifth grades.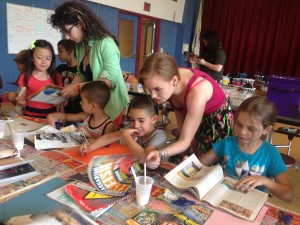 ---
2013 UML Fine Arts Benefit and Auction
The University of Massachusetts Lowell's 6th Annual Fine Arts Benefit and Auction, sponsored by the Student Art Union and the Office of Advancement will be held on Friday, September 27, 2013 at 6:30 p.m. at the Allen House on South Campus.  …read more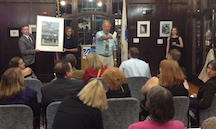 ---
Shenkar College of Design at the Arts Research Collaborative
In October 2012, members of the Shenkar College of Design of Tel Aviv, Israel, visited Lowell to work with students and faculty of the University of Massachusetts Lowell. The Collaborative hosted an evening of presentations and provided work space for the delegation. …read more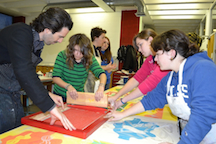 ---
The Artist Lecture Series is part of an initiative to expand the impact of the visual arts in the greater Lowell community. The Series presents contemporary artists working across disciplines exploring and expanding the boundaries of creative visual practice today. This Series is developed and presented by the Arts Research Collaborative and the Student Art Union of UMass Lowell, is supported in part by a grant from the Lowell Cultural Council, a local agency which is supported by the Massachusetts Cultural Council, a state agency. This event is hosted by the University of Massachusetts Lowell's Center for Arts and Ideas.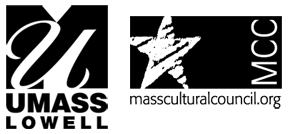 ---