Arts Research Collaborative Exhibitions
---
Hello, Hidden Observer
A selection of recent paintings and works on paper
by Samnang Riebe.
Opening Reception: March 23, 5:30-7:30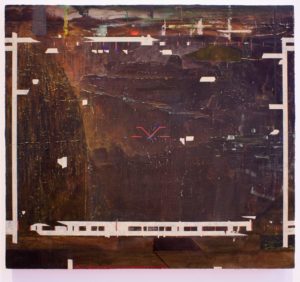 ---
Sirens, Light; Moths and Men
An exhibition of 2D and 3D works by Eileen Ryan.
Opening reception: Thursday, December 1, 6-8:00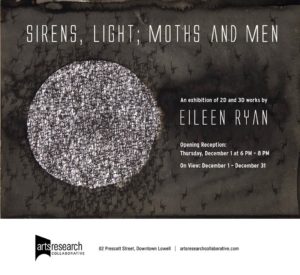 ---
Sunburnt and Peeling
A selection of Drawing and Prints by Liv Stanislas
Arts Research Collaborative Drawing Resident
Opening reception: Thursday, October 6, 6-8:00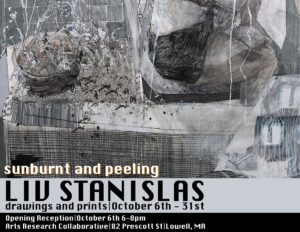 ---
Folded Mountain
A selection of Paintings and Prints by Laurel McMechan
Opening reception: Thursday, September 1, 6-8:30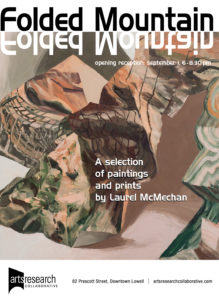 ---
Prayers for Peace
A collaboration with the Kathryn Stoklosa Middile School, the Lowell community, and UML artists and friends, following in the Tibetan tradition to spread compassion, peace, and goodwill.
Opening reception: Thursday, July 7, 5:30-8:30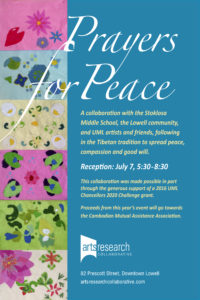 ---
Man Walks into a Room
Paintings and Drawings by Lavaughan Jenkins
Opening reception: Thursday, April 14, 6-8:30pm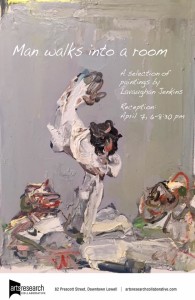 ---
Studies of Impermanence
Selected Works by Alexandra Derderian
Arts Research Collaborative Drawing Resident
Curated by Eileen Ryan
Reception: March 3, 6-8pm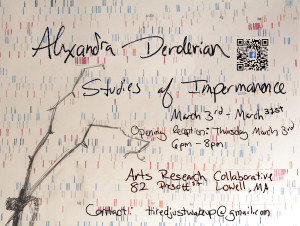 ---
A Negotiating Loop
A selection of drawings, paintings and paper constructions by Andrée Leduc
Reception: October 8, 6-8pm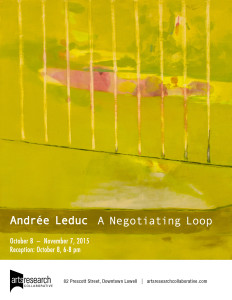 ---
Blocking the View
A selection of paintings by Sarah Lubin
Reception: September 3, 6-8 pm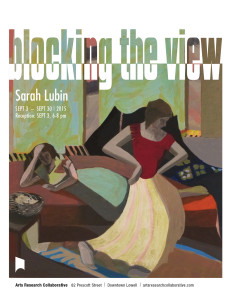 ---
From Here
A selection of some things from somewhere.
First Thursday Receptions: June – July, 6-8 pm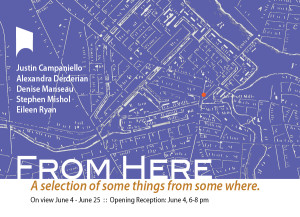 ---
Perspectives 7 | Session I and II
Reception: April 2, 7-9 pm
May, 7, 7-9 pm
A selection of paintings and drawings from the Department of Fine Arts, UMass Lowell.
Curated by Stephen Mishol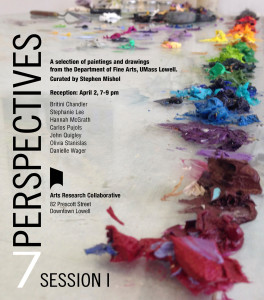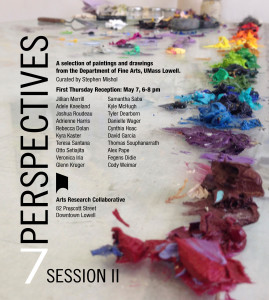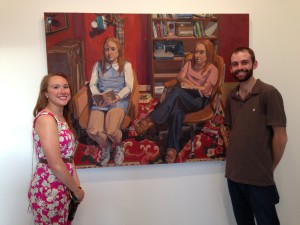 Josh Rondeau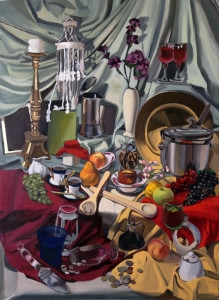 Carlos Pujols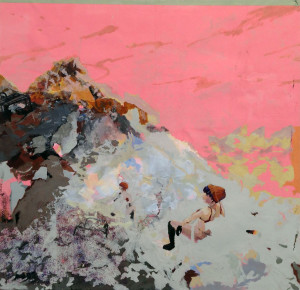 Liv Stanislas
---
Duy Hoàng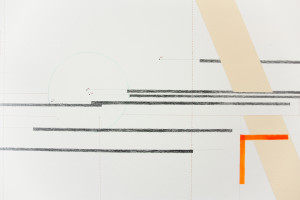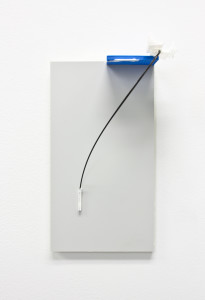 2.05 – 3.06
Opening reception: 2.05 / 6:00 p
"ở"
/ʔəːɰ˨˦/ Vietnamese
Preposition: "at", "in"
Verb: "to stay", "to live", "to remain"
"ở" is a collection of works by Duy Hoang that touches upon the process of locating oneself, from and to the surrounding environment.
Duy Hoang is the first recipient of the Arts Research Collaborative Drawing Residency. The four-month program was established in 2014, to provide a recent graduate from the UML Fine Arts Department who plan to to pursue a Master of Fine Arts degree. Each recipient receives a modest studio space to allow them to focus on their drawing practice for a period of four months. At the end of the residency, the Collaborative will give the artist an exhibition, documenting their work during that period.
---
Gwen Strahle
Still Life
September 26 – November 8
Opening reception: Thursday, October 16th 6-8:00 pm.
A recipient of a Guggenheim Fellowship and Connecticut Artist Fellowship, Ms. Strahle received her M.F.A. from Yale University and her B.F.A. from Rhode Island College. She has lectured and exhibited extensively and is presently a Senior Critic at the Rhode Island School of Design.
As part of our ongoing collaboration with students in the Fine Arts at UML, this show is co-sponsored with the UML Student Art Union, and curated by Eileen Ryan and Liv Stanislas.
---
Michael Zachary
New Drawings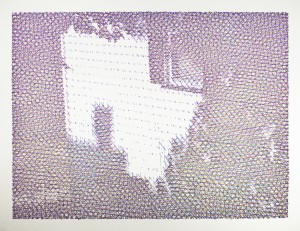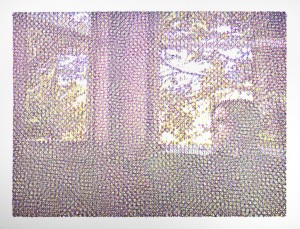 "Dave at the Cabin"
April 1 – 26, 2014
Opening reception Thursday, April 24, 6:30-8:30
The artist will also give a lecture about his work on Thursday, April 24th. The talk will begin at 2:00 and be held in the UML Art Department critique space on the ground floor of Dugan Hall, South Campus.
---