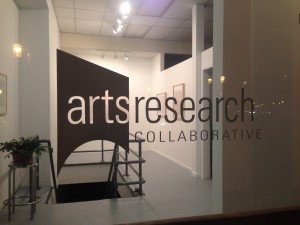 Our mission as the Arts Research Collaborative is to be contemporary artists working in downtown Lowell, interfacing the Lowell arts community and the University of Massachusetts Lowell arts community with a practice focused on arts dialogue, diversity, and education, beyond the region, state and nation.
History
Jim Jeffers, Stephen Mishol, and Denise Manseau established the Arts Research Collaborative in November of 2009 as a space for contemporary arts research. The 4000 square-foot space is located in the old storefront at 82 Prescott Street in the heart of downtown Lowell, Massachusetts. This prime location is just blocks from Lowell's National Park Visitors Center, several historic and cultural museums, restaurants, pubs, cafes, shops and is adjacent Middlesex Community College and directly behind the UMass Lowell Inn and Conference Center.
The Arts Research Collaborative hosts a wide array of exhibitions and events each year, showcasing the work from invited nationally recognized artists, and UMass Lowell faculty and students. The programming creates a rich environment of display and discourse, contributing to the cultural landscape and growth of the visual arts in Lowell.
Arts Research Collaborative  :  Founding Members
---
---
Denise Manseau
---
Stephen Mishol
Miller Yezerski Gallery
University of Massachusetts Lowell                                                                                                                   
---